Featured Piece.
British joinery will take over in Europe throughout the 18th century. In addition to the excellent art of its joiners, there is the great dissemination achieved, from the middle of the century, by the albums of English furniture designers, namely Thomas Chippendale (1718-1779), with his "The Gentleman & Cabinet-makers Director" (1st edition of 1754; 2nd edition of 1755 and 3rd edition of 1762); George Hepplewhite (?-1786), "The Cabinet-Maker and Upholsterer's Guide" (1788); and later Thomas Sheraton (1751-1806), "The Cabinet-Maker and Upholsterer's Drawing Book" (1791-1794).
The most influential of all was Chippendale's collection of prints, which reached us in its 3rd edition, from 1762, and which illustrated models of the most diverse types of furniture that had great acceptance and achieved great popularity among the dominant bourgeoisie, namely the seat furniture.
During this period, tables with specific functionalities appeared, such as this England-produced, mahogany writing and reading desk.
The piece has a smooth reclining top with a framed and protruding rim, which forms a reading elevation with rear brackets supported on denticulate rulers. The front is extendable, with support on the front legs, leaving another removable top uncovered with the extension of the table, which presents divisions when it is retracted. On the sides, it has a mechanism of small circular trays, which serve as support (for candlesticks).
The designation of "writing table", which emerged in the 18th century associated with cabinet-makers, included several typologies of tables, including those with a writing drawer or desk, which slid forward supported by the front feet when pulled, like a drawer, and which remained hidden in the thickness of the waist when closed.
It is also possible to find this model associated with the designation of "architect's table".
Source: Obras de Referência dos Museus da Madeira, 500 Anos de História de um Arquipélago ("Reference Works of the Museums of Madeira, 500 Years of History of an Archipelago"); SRE/DRAC/DSM; 2009. [catalogue entry no. 136].
Credits: Quinta das Cruzes Museum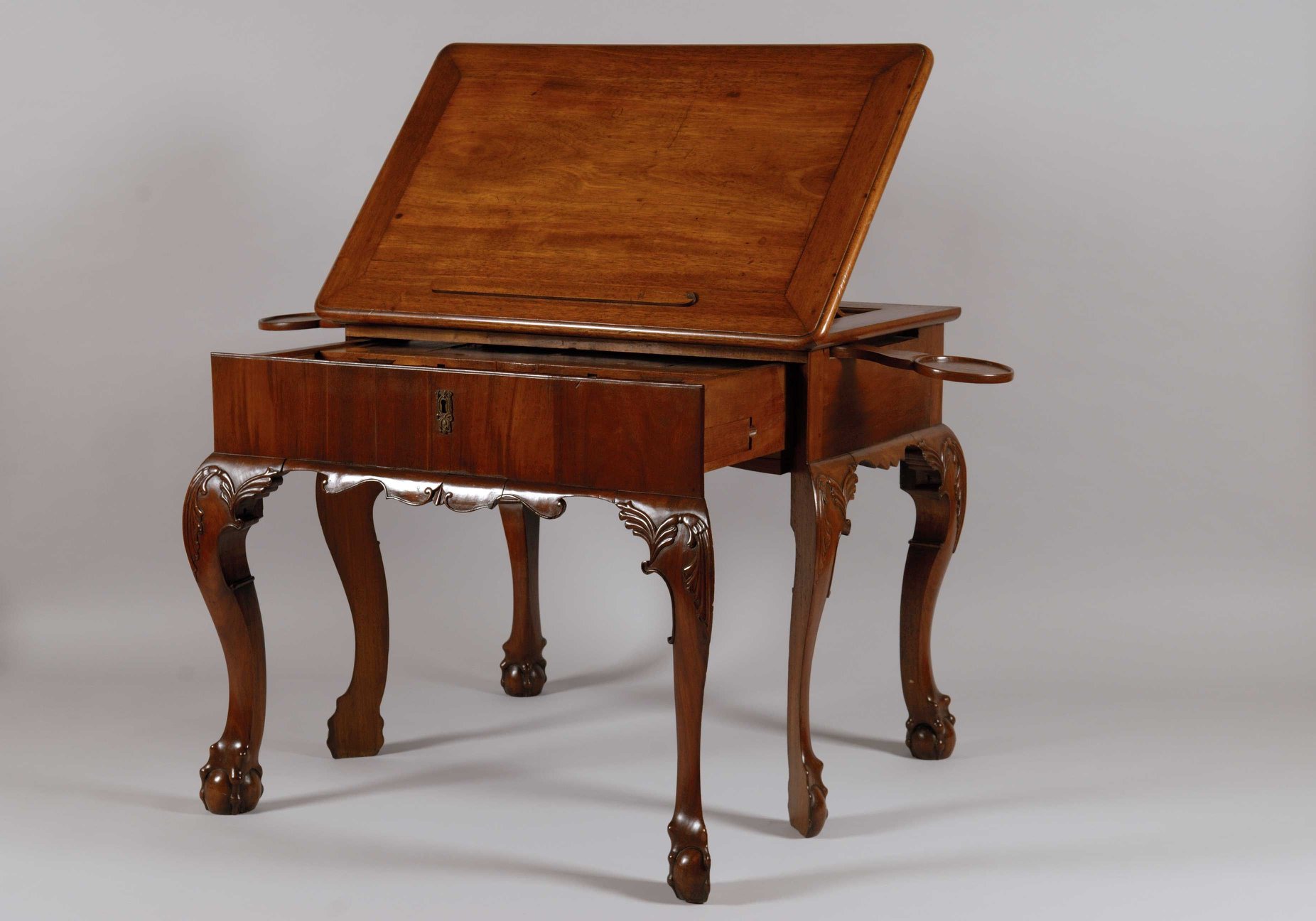 Writing and reading table | England | Second half of the 18th century | Carved mahogany | A. 78.3 x L. 92.3 x P. 58.7 cm | QCM 31 | ©PedroClode2009