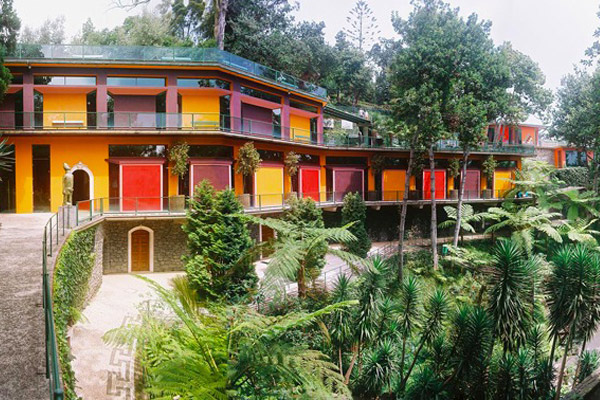 The Quinta do Monte Palace is situated in a privileged zone of the high bay of Funchal, known in the nineteenth century as a major summer resort. Monte binds a romantic tradition, by leafy trees and gardens, quintas that lurk from various angles.
In the eighteenth century the British Consul in Funchal, Charles Murray, bought a property south of the Mount Church, and then installed its recreational Quinta, known by the designation of "Pleasure Dome" The property was acquired in 1897 by William Alfredo Rodriguez, who built the present home in a revivalist style, so the taste of the end of the century, inspired by the architecture of the Rhine. The estate was turned into a hotel, the prestigious "Monte Palace Hotel, a place for elegant and cosmopolitan aura of tourism of the beginning of the century on the island of Madeira.
In 1987, after long years of closure (since 1943), "Monte Palace Hotel", was acquired by a financial institution businessman Jose Berardo, who donated to a foundation with his name, leading to the birth of Monte Palace Tropical Garden
After major restoration, the house of the Quinta intended to exclusive private use, but the gardens were opened to the public. There were great works of redevelopment of the vegetation, and numerous plant species were planted. Exotic plants were introduced, with an important collection of cycads and proteas from South Africa, azaleas from Belgium, urses from Scotland, as well as an important work of planting characteristic species of the Madeiran laurel forest.
The gardens have been ornamented with numerous decorative stonework, architectural worked stones from a nationwide demolition works. Set of special attention should be given to a Renaissance altarpiece in stone, from a sixteenth century Coimbra workshop.
Integrated in the garden is still posted an exceptional collection of decorative tiles, mainly Portuguese from the mid-sixteenth to the twentieth century. This collection constitutes one of the largest collections of Portuguese tiles, with remarkable examples of rare tiles from the XVI and XVII centuries, to an important collection of Portuguese figurative tiles from the middle of the eighteenth century.
It was also created an oriental garden, with the presence of various architectural features and sculptures.
In a building ,built from scratch , there are installed other collections of José Berardo, such as African Contemporary Sculpture from the region of Zimbabwe since 1960, joining the artists of this Tengenenge movement since 1966, as well as the Exhibition Secrets of Mother Nature, with his collection of minerals from Brazil, Portugal, South Africa, Zambia, Peru, Argentina and North America.