Francisco Franco de Sousa (b. Funchal, 10/9/1885; d. Lisbon 15/2/1955), Madeiran sculptor of great national and international expression, member of the "Academia Nacional de Belas-Artes" and one of the main references of Portuguese Modernism of the first generation.

His academic career began at the "Escola Industrial e Comercial" of Funchal, which now bears his name. He went on to the "Academia Real de Belas-Artes" in Lisbon (1900-1909), where his uncle, Simões de Almeida, was the master. He continued his studies in Paris (1909-1914 and 1919-1922), under the guidance of master Mercier and as a scholarship holder of the Legacy of Viscount of Valmor, a scholarship granted to him through the presentation of the sculptural piece "The Justice of Solomon". After a visit to Belgium and Holland and with the outbreak of the First World War, he returned to Madeira in 1914, where, until the end of this armed conflict, he carried out several notable works: "Bust of the Aviator", "Angel", "Sower" and "Bust of Zarco". He also studied in Rome in 1925, as a state pensioner. In the 1930s, he was commissioned several works, particularly by the "Estado Novo", which gives him even greater prominence in the national context. Among the numerous exhibitions in which he participated, the Free Art Exhibition (1911) deserves special mention; "Salon d'Automne" (1921 and 1923) where he presented his sculpture "Semeador", which today is in the vicinity of Funchal City Hall; "Société Nationale des Beaux-arts", in which it is named "Associé" with "Hors Concours" privilege; "Cinco Independentes" (Lisbon, 1923) which included the artists Alfredo Miguéis (b. Funchal, 1883- d. Funchal, 1943), Diogo de Macedo (b. Vila nova de Gaia, 1889- d. Lisbon 1959), Dórdio Gomes (b. Arraiolos, 1890- d. Porto 1976) and his brother Henrique Franco (b. Funchal, 1883- d. Coimbra 1961); Weyhe gallery, New York (1925); Boston exhibition, with Picasso, Louvencen and Mayol (1927); several salons of the National Society of Fine Arts (2nd medal, 1929 and 1st medal, 1930); Ibero-American Exhibition in Seville (1929); I Salão dos Independentes (1930); Vincennes Exhibition (1931); I Modern Art Exhibition (SPN / SNI, 1935); Universal Exhibition in Paris (1937); I Sacred Art Exhibition (1945); Venice Biennale (1950) and São Paulo Biennial (1953). The following works deserve special mention: "Infante D. Henrique" (1931); "Monument to João Gonçalves Zarco" (1934); "D. Leonor "(1935); "Apostolate" of the Church of Nossa Senhora de Fátima (1935); full-body statue of Salazar (for the Universal Exhibition in Paris in 1937); "D. João IV" and "D. Dinis "(1943); "D. João III "(1948) and "Cristo-Rei Monument" in Almada (completed posthumously in 1959). Francisco Franco's work is also on display at the José Malhoa Museum and at the Henrique and Francisco Franco Museum, which opened on August 21, 1987.
Francisco Franco was awarded the Grand Officer of the Order of São Tiago and the Gold Medal of Merit from the Municipality of Funchal.
Credits: Museu de Fotografia da Madeira - Atelier Vicente's.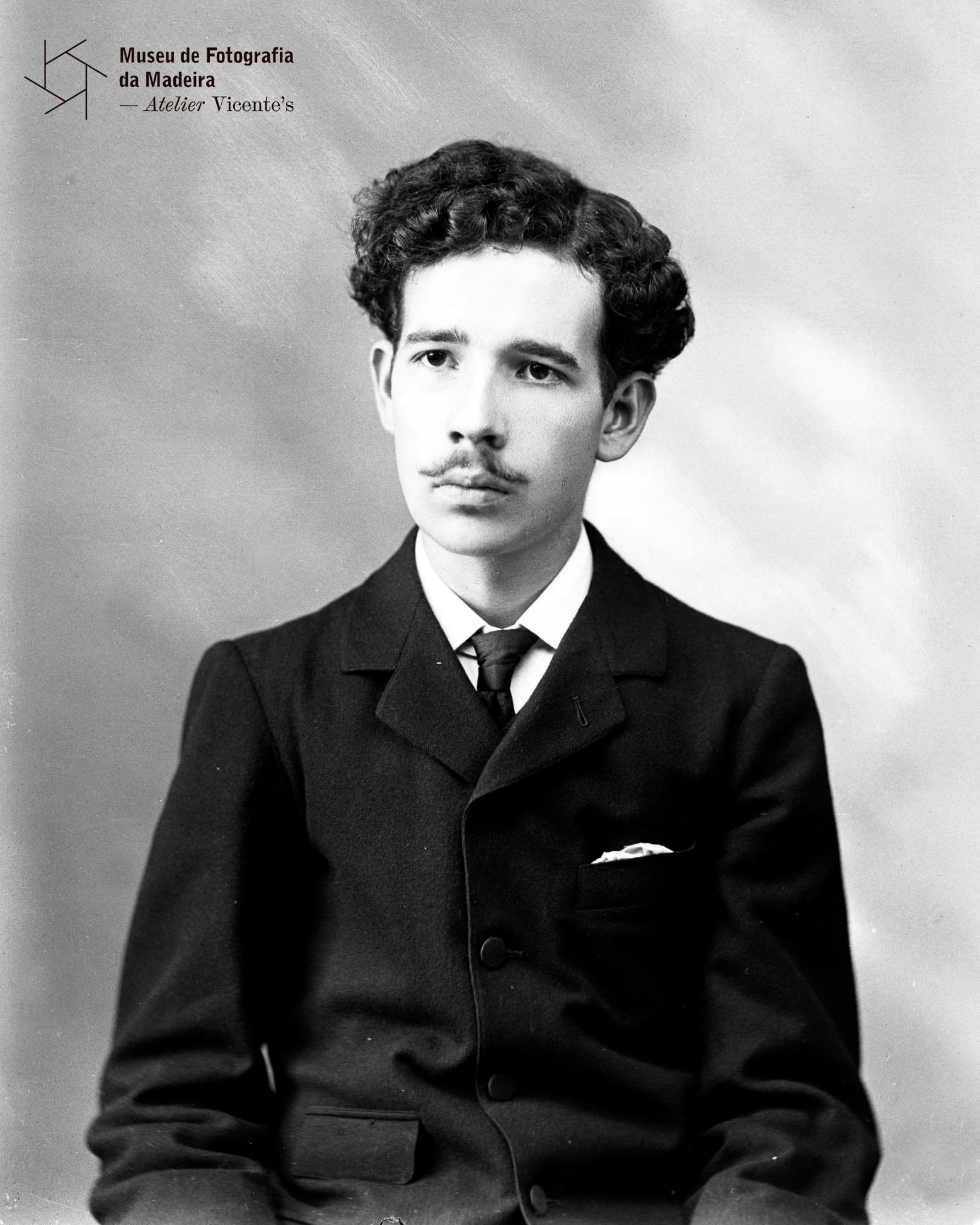 PHOTOGRAPHIA VICENTE
Francisco Franco de Sousa Júnior's portrait | 1902-09-16
10.7 x 8.1 cm | Simple negative | Gelatin and silver salts
MFM-AV, Inv. VIC / 18876