Sir Winston Leonard Spencer Churchill (1874-1965) British politician and statesman, who was Prime Minister of the United Kingdom (between 1940 -1945 and between 1951-1955). He was also a journalist, British Army officer, historian and writer, having received the Nobel Prize for literature in 1953, with his memories of World War II. He arrived at Funchal pier on January 1, 1950, accompanied by his wife, Lady Clementine Hozier Spencer Churchill (1885-1977), Colonel William Deakin (his literary assistant) and two secretaries, staying at Reid's Palace Hotel (now Belmond Reid's Palace).
He dedicated himself to painting in his leisure time, with the images captured at the viewpoint of Espírito Santo (today the viewpoint of Winston Churchill, located at the entrance to the city of Câmara de Lobos), where the amateur painter representing the bay is seen and the islet.
He left the island on January 12, 1950 on board a seaplane from the English company "Aquila Airways".
Credits: Museu de Fotografia da Madeira - Atelier Vicente's.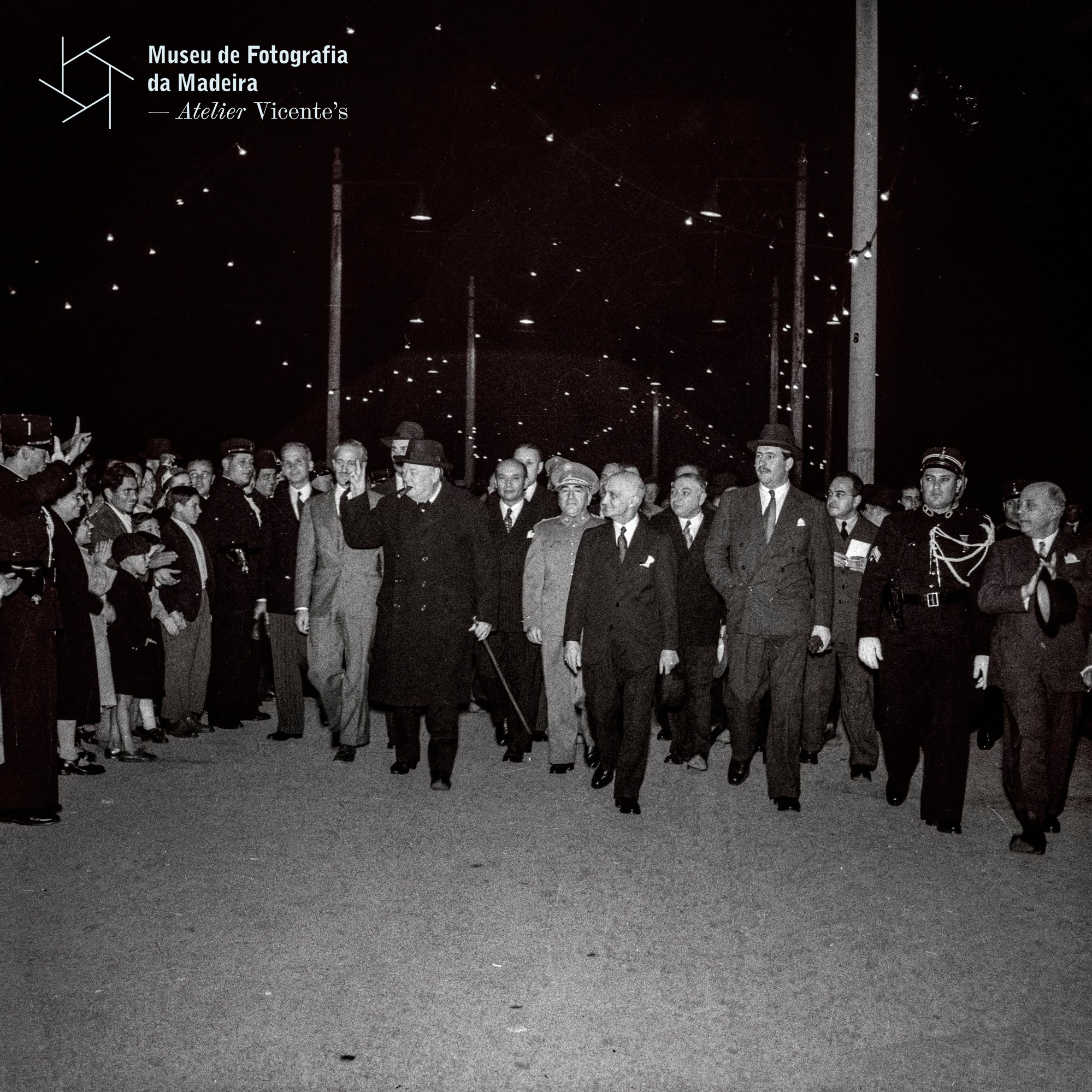 PERESTRELLOS PHOTOGRAPHOS
Winston Churchill on the pier of Funchal, upon his arrival on Madeira Island. To your left, from left to right: Dr. Óscar Baltasar Gonçalves, Mayor of Funchal's City Hall; Brigadier Alfredo Augusto da Silva Braga, military governor of Madeira; brigadier Rui da Silva Meneses, District of Funchal governor and Dr. João Figueira de Freitas, president of the Funchal's General Board. On your right, Dr. Alberto de Araújo, deputy of the Nation. | 1950-01-01
6.1 x 6.5 cm | Simple negative, film | Silver salt gelatin
MFM-AV, Inv. PER / 3467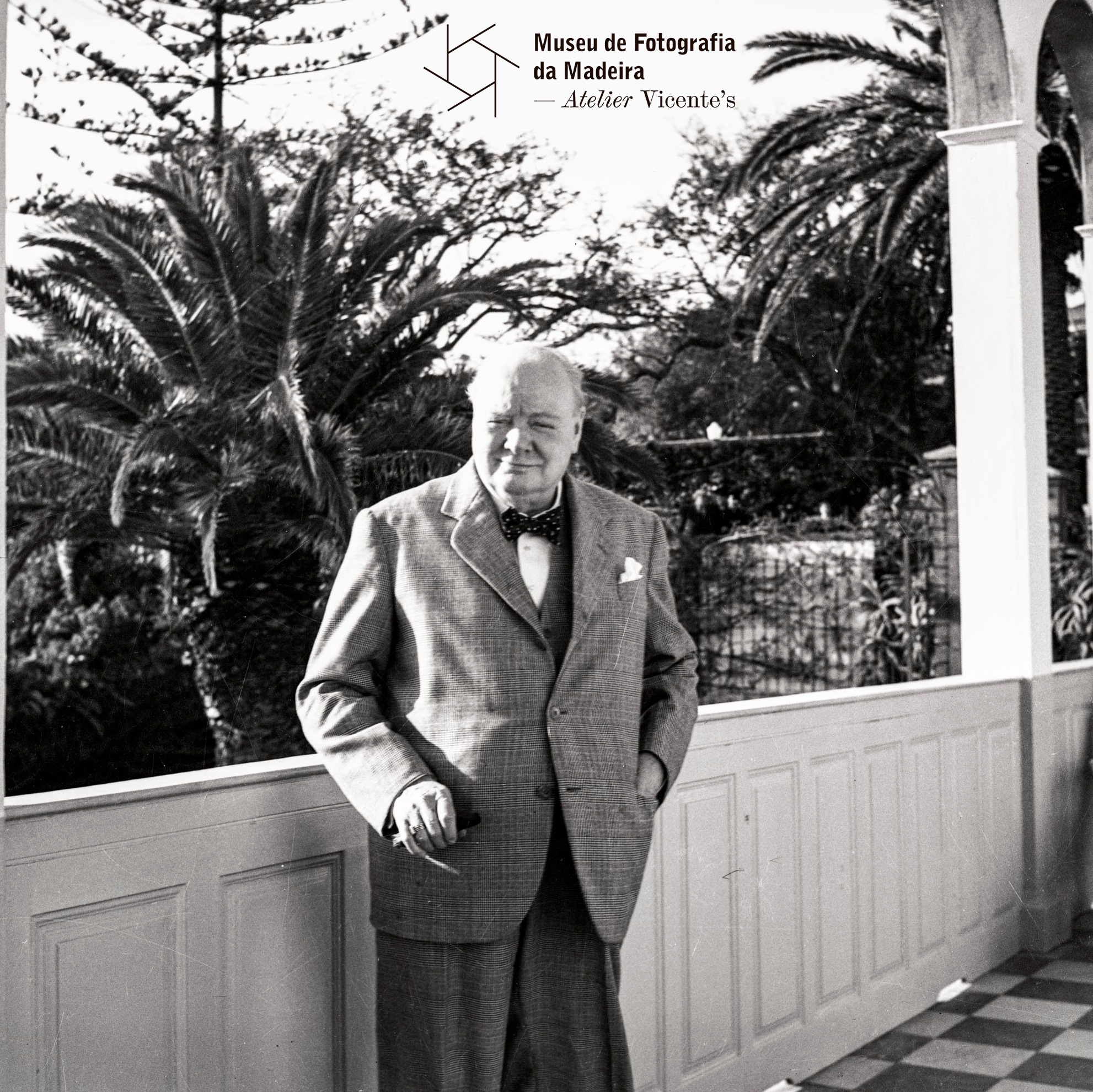 Winston Churchill on the Reid's Palace Hotel balcony (now Belmond Reid's Palace) | Between 1950-01-01 and 1950-01-12
6.1 x 6.5 cm | Simple negative, film | Silver salt gelatin
MFM-AV, Inv. PER / 3476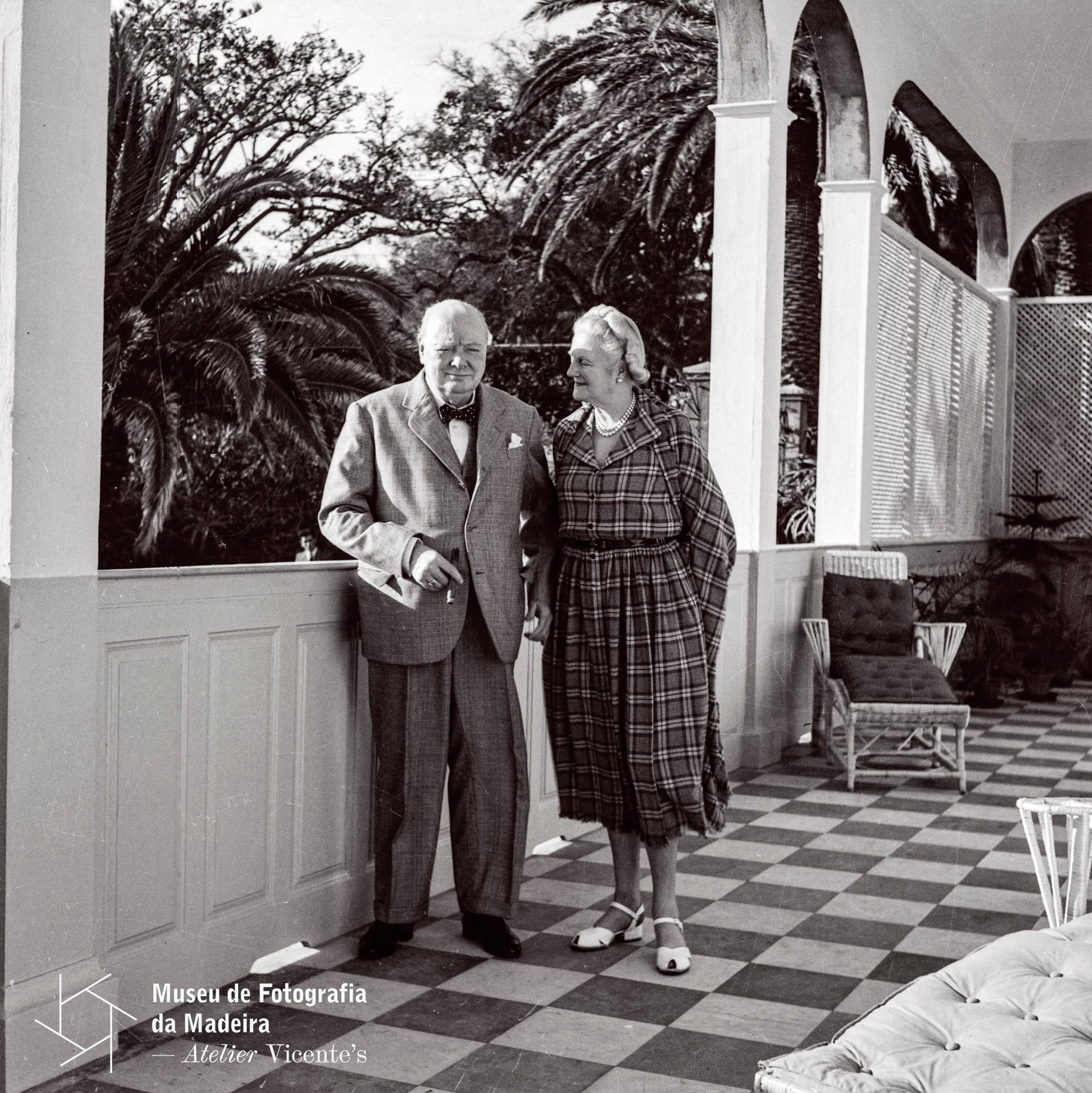 Winston Churchill and his wife, Clementine Hozier, on the Reid's Palace Hotel balcony (now Belmond Reid's Palace) | Between 1950-01-01 and 1950-01-12
6.1 x 7 cm | Simple negative, film | Silver salt gelatin
MFM-AV, Inv. PER / 3477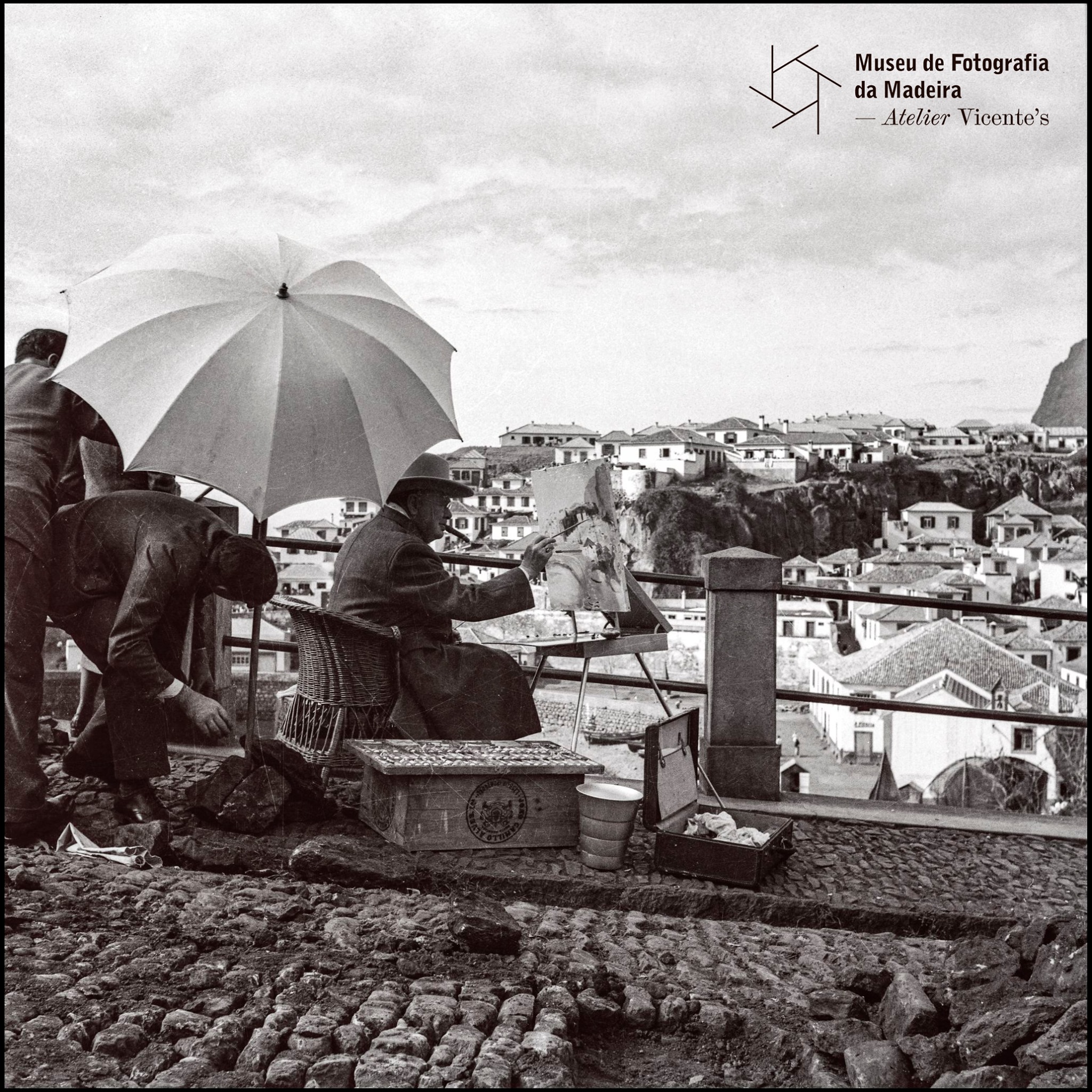 Winston Churchill painting, in the village of Câmara de Lobos | 1950-01-05
6.1 x 6.6 cm | Simple negative, film | Silver salt gelatin
MFM-AV, Inv. PER / 3487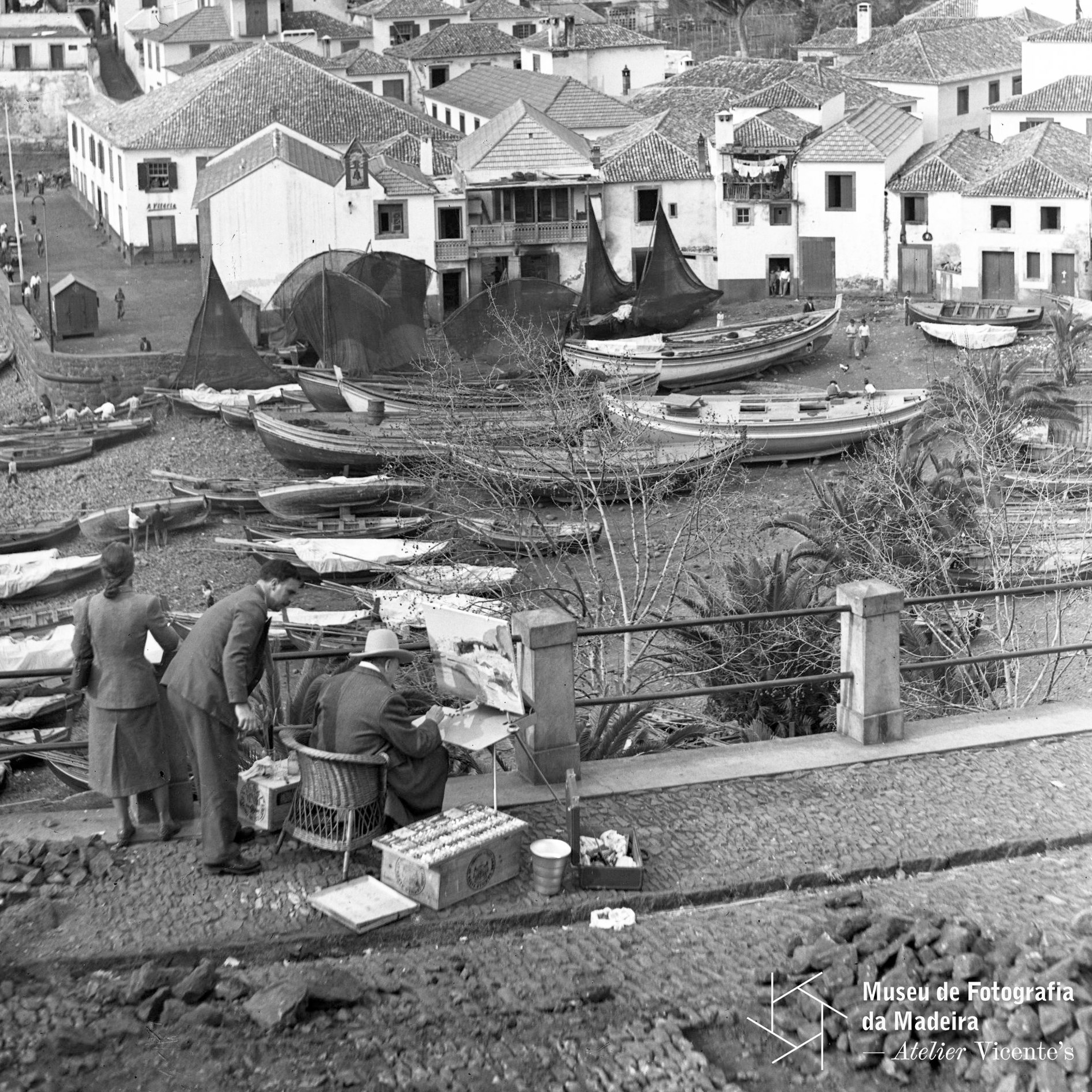 Winston Churchill paiting, in the village of Câmara de Lobos | 1950-01-05
9.8 x 9.9 cm | Simple negative, glass | Silver salt gelatin
MFM-AV, Inv. PER / 3491