Round, embossed, brushed and incised silver-gilt salver with raised foot and motifs alluding to the Seven Deadly Sins.
Although they have no biblical consecration, the Seven Sins seem to have been described first by the Greek monk Evagrius Ponticus (345-399). According to him, the greater the egocentrism, the more sins worsened. In the 6th century, Pope Gregory the Great established a hierarchy of capital sins, making some adjustments: Pride, Envy, Wrath, Sorrow, Greed, Gluttony and Lust. Saint Thomas Aquinas (1225-1274) also carried out studies on the subject and, in the 17th century, the Church definitively replaced Sorrow with Sloth, which had been used before.
Hieronymus Bosch made an important representation of the Seven Deadly Sins at the end of the 15th century, using the circular form, a clear allusion to egocentrism as an aggravation factor for sins, exemplary today at the Prado Museum, purchased by King Philip II of Spain for the Escorial, in 1574.
This type of jewellery work is a consequence of Portugal born with the maritime expansion and the greatness of the reign of King Manuel I. The Manueline style itself is the result of the particular situation of Portuguese history, tied to formal values from the European final-Gothic art, and how its characteristics are filtered in the national context. If the jewellery reflects the architectural form, it was also sometimes tested in the context of miniaturization, which jewellery represented as a scale modelling.
The illustrations of Leitura Nova ("New Lecture") - started in 1504 with King Manuel I until 1552, in the time of King John III - will be a true laboratory of decorative elements and the finished example of the national filtering of European decorative grammars, later applied to other arts.
A Renaissance motivation, a whole classical ornamental repertoire taken from the Roman models, either directly or through the Flemish and Spanish models, made its appearance in the early second decade of the 16th century, although its works remained fundamentally Gothic in its structure.
«[...] Goldsmiths "drop" motifs, such as "grotesques", chandeliers, medallions with profile heads, fluted niches, pilasters, perfect round arches, trophies and acanthus leaves, in their works [...]» [Nuno Vassallo e Silva in Ourivesaria do Período Manuelino e a Transição para o Renascimento, O Vocabulário Clássico, Inovações e Resistências, História da Arte Portuguesa, Vol. II, Lisboa, 1995 ("Jewellery from the Manueline Period and the Transition to the Renaissance, The Classic Vocabulary, Innovations and Resistances", History of Portuguese Art, Vol. II, Lisbon, 1995)].
The salver of the Quinta das Cruzes Museum was assigned by Pedro Dias to a Lisbon workshop from the mid-16th century (in "Feitorias, L'Art au temps des Grandes Découvertes", Europalia (1991) [cat 148]).
Source: Obras de Referência dos Museus da Madeira, 500 Anos de História de um Arquipélago ("Reference Works of the Museums of Madeira, 500 Years of History of an Archipelago"); SRE/DRAC/DSM; 2009. [catalogue entry no. 16].
Credits: Quinta das Cruzes Museum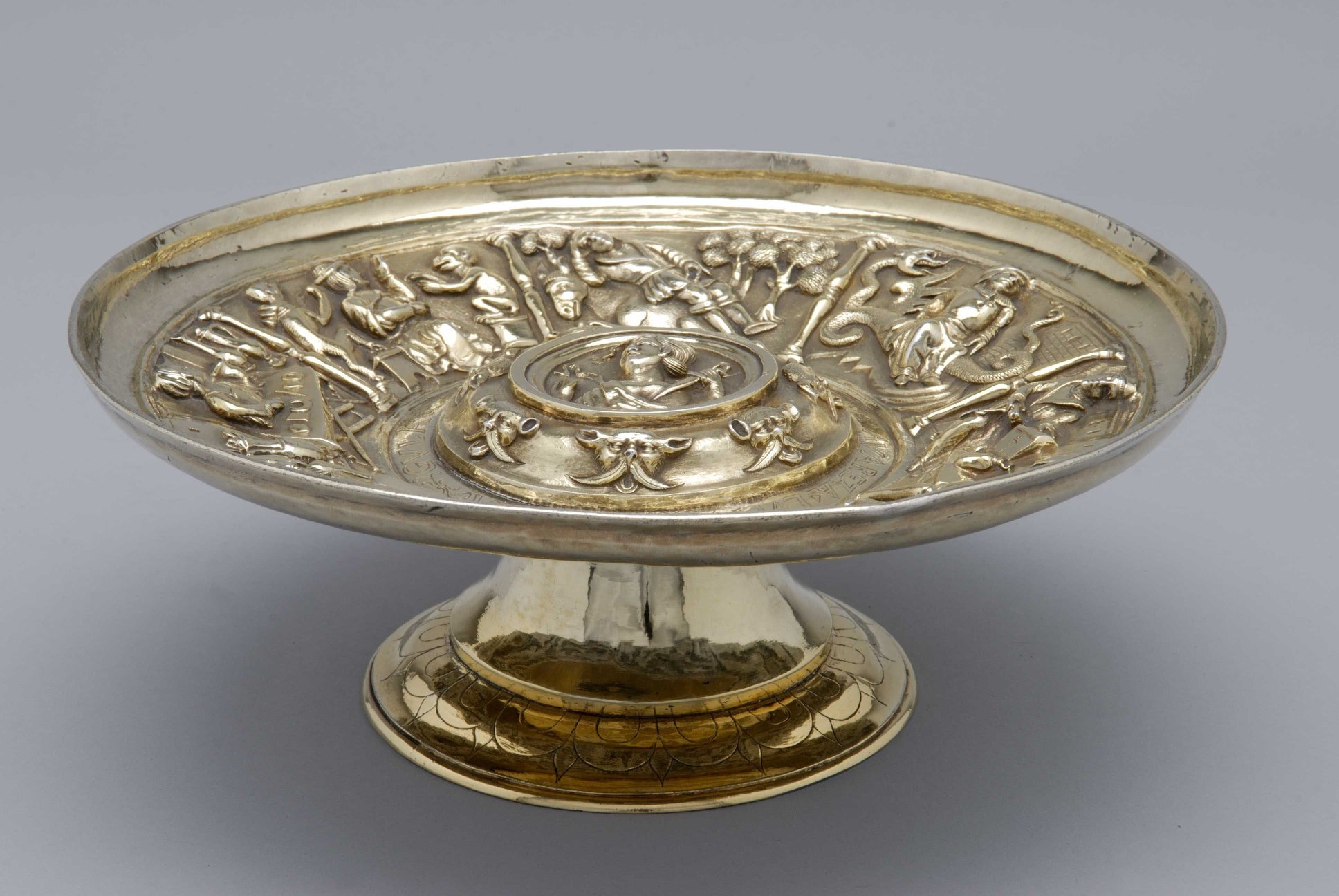 Salva com pé | Ourivesaria Portuguesa | Primeira metade do século XVI, c. 1520-30 | Prata dourada relevada, repuxada, cinzelada e incisa | D. 21,6 x A. 8,3 cm | MQC 1626
©PedroClode2009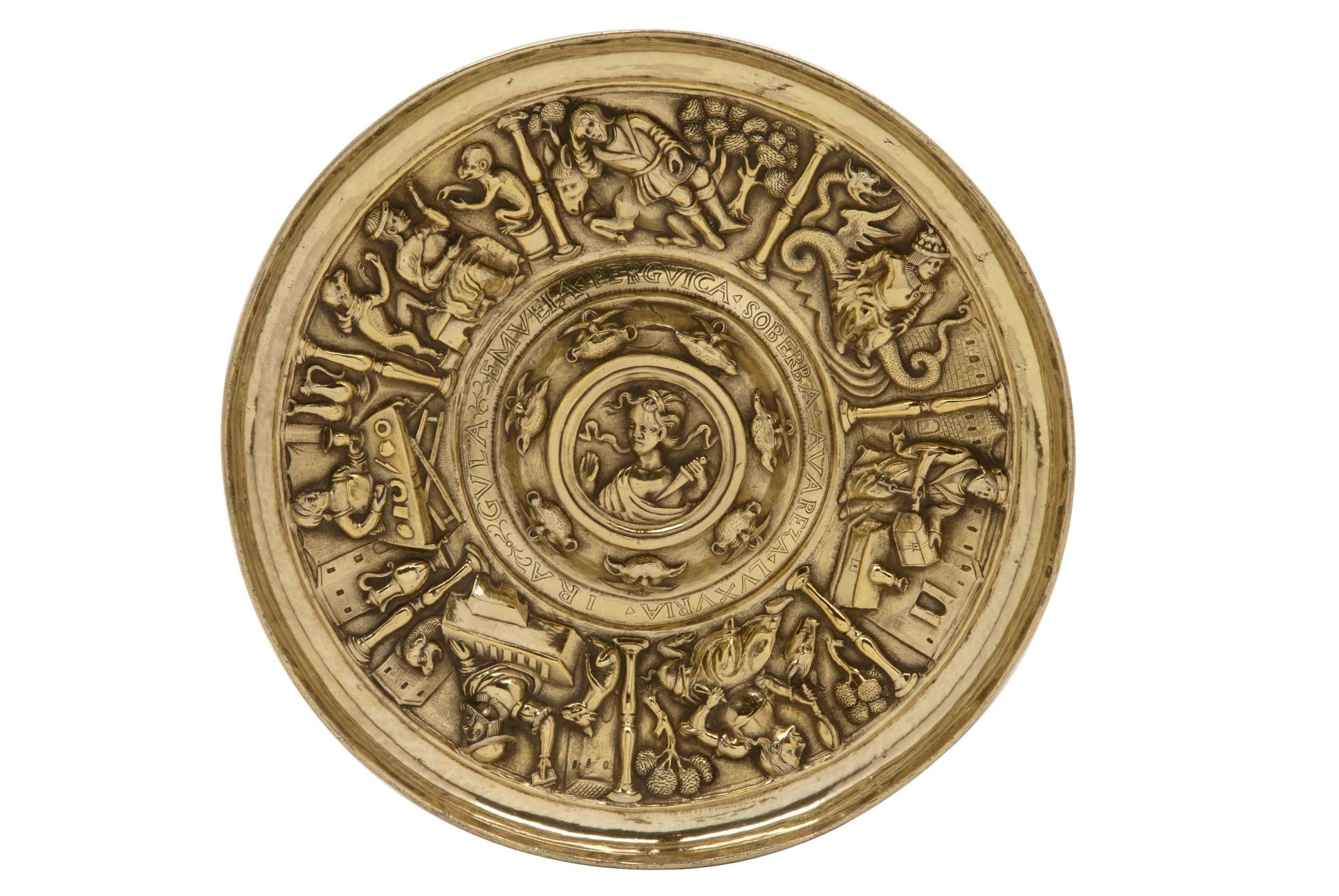 No círculo exterior da salva do Museu Quinta das Cruzes, separados por colunelos ou balaustres, sequencia-se a descrição ilustrada dos pecados, em motivos relevados.
A "Inveja" é representada por figura feminina ladeada por dois símios, a "Preguiça", através de um homem adormecido que repousa sobre um burro, com árvores ao fundo.
A "Soberba" por um homem altivo, coroado, montado num dragão e torre ao fundo, a "Avareza" por um homem segurando na frente com uma mão uma arca fechada e com a outra prende as chaves, sobre fundo com elementos arquitetónicos.
A "Luxúria" é representada através de uma figura feminina, sentada sobre um suíno, observando-se ao espelho, com um fundo de árvores.
A "Ira" é descrita por homem por detrás de uma mesa, agitando com braço direito uma carta, tendo por companhia dois animais.
A "Gula" é descrita por uma figura feminina, frente a uma mesa com vários atavios culinários, como vasos, faca e jarros.
©PedroClode2009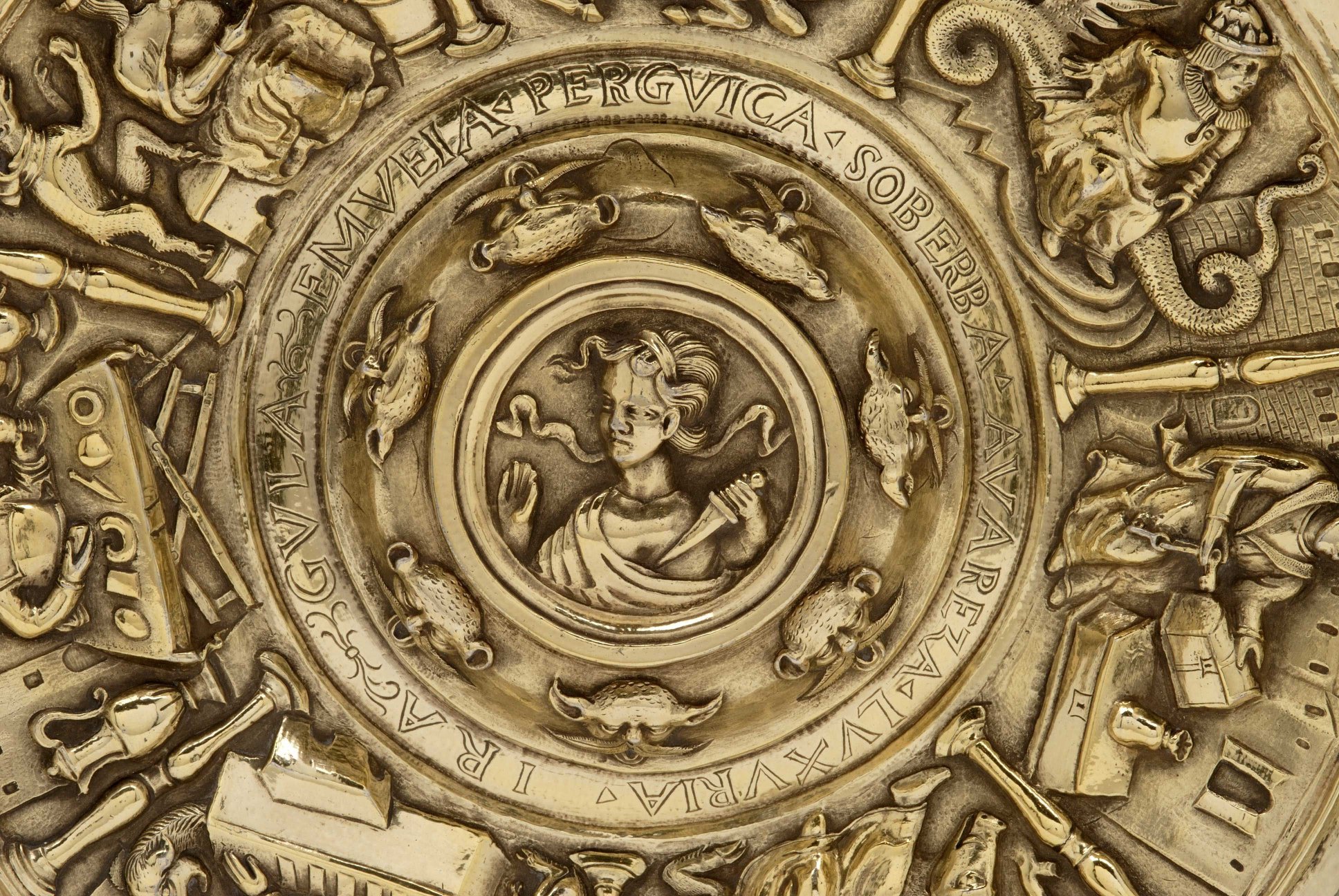 A salva do Museu Quinta das Cruzes tem ao centro, em medalhão circular, de sabor renascentista, com a figura relevada de Lucrécia, posta a três quartos, com cabelos esvoaçantes e apanhados por fita, segurando com mão esquerda um punhal, levantando a direita com a palma da mão aberta.
Lucrécia a bela e casta, símbolo do sacrifício pelas virtudes, já casada com influente aristocrata, Lúcio Colatino, é forçada ao adultério por Sexto Tarquínio. Confessa ao marido a sua desonra e suicida-se com punhal.
Este gesto leva à rebelião em Roma e à instalação da República, segundo Tito Lívio no final do livro I da sua História de Roma (1999).
O medalhão central é emoldurado por mascarões grotescos, com esgar insólito e demoníaco, de bocas abertas e longos bigodes, alternando orelhas pontiagudas e em forma de argola.
Este aro circular que envolve a representação central é também emoldurado pela legenda incisa com a designação dos Sete Pecados Capitais:
EMVEJA/PERGVICA/SOBERBA/AVAREZA/LVXVRIA/IRA/GVLA.
©PedroClode2009